dsy, Jakarta, Indonesia
I have become anime and manga freak like forever. In fact, Animax - an anime channel - was all the reason I decided to pay my own cable TV.
I got so curious about this whole LaMB stuff, wondering how it would turn out. The idea of the story is very intriguing.
That's why I'm extremely curious and cannot wait for this 1st Animax animation project.
Hopefully it will give the depth and inspiration like most anime does.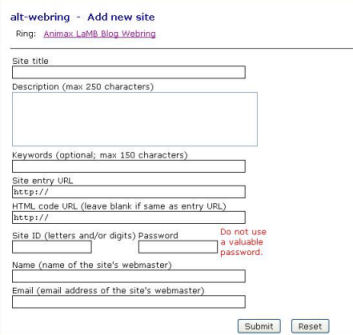 3. When you have submitted your blog, your blog will appear on the Animax LaMB Webring List in 1 or 2 days

4. Once your blog is approved, you will receive a notification email from me

5. Get your ring code here. Copy-paste the code, and place it in your blog, and your blog will now be on the list

6. Note: the webring appearance is customizable to fit your blog

Thank you for joining Animax LaMB Webring

Regards,
dsy
Project i-LaMB
http://i-lamb.blogspot.com